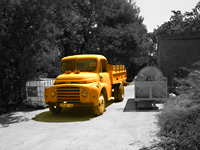 Stéphane Morin started his wine adventure in 2005 when he created Domaine Léonine in the Roussillon area.
He is a big strapping lad, solid, quiet, who posts a generous smile on his face bringing down a lot of girls and epicurean women.
Today, it is already known in the natural wine French world as doing great and particular wines. Since the beginning, he bought vines from an old winegrower who never used chemical treatment like pesticides. As the earth was not weeded, the roots of stocks sank into the ground to draw it water and resources.
Vine won at it in strength and in maturity, bearing more easily the climate and bringing more minerality to the fruit.
As Stephane told us « The carbonic, you do it with good grapes. It is like an infusion of grape, fluid, quite lace, you see. After 3 weeks of maceration, you rack off the drop, press the solid part and put it in barrel. » Stephane is playing carbonic maceration as the base of his winemaking to create his range. For summary, clusters are put in a vat during several days without oxygen and the fermentation is starting in each berry.
I advice you to taste Fond de Tiroir which will give you a good idea of what Stéphane wants to do produce. First, that's fully fruity, red and black, the colors of the passion. And then come aromas of roasting, more subtle, as caress of the sun, at the end of mouth when you decide to take time to appreciate the good things.